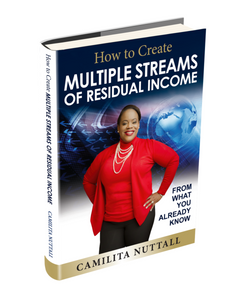 MULTIPLE STREAMS OF RESIDUAL INCOME | BOOK
"WHAT IS YOUR REASON FOR CREATING MULTIPLE STREAMS OF RESIDUAL INCOME?"
 In this book 'How to Create Multiple Streams of Residual Income', Camilita shares the 10 Principles she has used over the last 15 years in creating multiple incomes from property, information products, books, eBooks, stocks and shares, memberships, online courses and so much more. 
Warren Buffett said… "Never depend on a single income. Make investments to create a second source."
Whatever your reasons are for Creating Multiple Streams of Residual Income, Camilita's advice to you is to do it now! You don't know what could happen in the future.
The reality is that most people don't have Multiple Streams of Residual Income and go from pay cheque to pay cheque, project to project, client to client, month after month, year after year.
WHAT IF...
You're the main breadwinner and you lost your job today or this year?
Your business goes bankrupt or fails and you are left with huge debt and no way to pay your bills?
You get wiped out in the next 18 months, what then, what will you sell, what will you do?
You can't work anymore because of ill health, mental health or you simply can't cope anymore?
You have to take time off to look after a loved one or family member who needs you?
You are just tired of doing what you're doing, the love of it is gone and you're at the brink of quitting?
Your spouse or partner loses their job and you have to foot the bills and expenses by yourself and it's virtually impossible doing it on your own?
HOW LONG COULD YOU CONTINUE TO LIVE ON YOUR SAVED INCOME OR BE ABLE TO SUPPORT YOURSELF AND YOUR FAMILY?
If you can't answer that, then get this book NOW and start to Create Multiple Streams of Residual Income. Camilita has more than 8 income streams that she has developed over the years and she wants to show you how YOU can do it too. 
Ready? Order your book TODAY!
Colour & shapes may appear differently from the finished product and representation is only as accurate as your computer screen or browser allows.
---
We Also Recommend