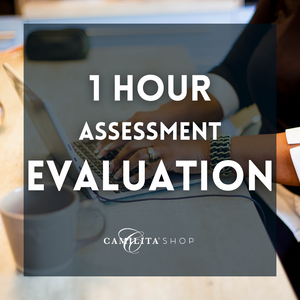 1-2-1 ASSESSMENT EVALUATION | 1 Hour
It's time to get your 1-2-1 Assessment Evaluation with one of our experienced coaches!
On this 1 Hour 1-2-1 call, we will...
Go through your Entrepreneur Assessment with you thoroughly 
Evaluate your current situation and highlight the key areas of your business that need development
Pinpoint what is blocking your next level of success and provide a brief overview of the steps that should be taken for you to move forward in your life and business
We will partner with you in a thought-provoking and creative process to inspire you to maximise your personal and professional potential. It's time for YOU TO LIVE LIKE A CHAMPION!
Haven't completed Camilita's Free Entrepreneur Assessment yet? Go ahead and complete it now >> just Click Here.
---
We Also Recommend