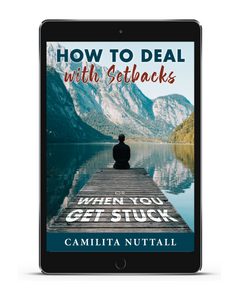 HOW TO DEAL WITH SETBACKS | EBOOK
Are you Dealing with a Current Setback or Are You Stuck?
In this eBook "How to Deal with Setbacks….", Camilita's shares 10 powerful and positive ways of dealing with setbacks and how to get moving again if you are stuck.
Camilita is an International Speaker, Wealth & Business Coach, an Award Winning Top European Sales Trainer/Recruiter, Business Growth Strategist, Property Investor, Podcast Host and Author and has had setbacks in business, health, relationships, financial setbacks, emotional setbacks, career setbacks, personal development – you name it!
Whether you know if the setback is coming or not, when setbacks arrive it's NEVER easy.
In this eBook, Camilita will show you why you need a plan, system and support in place to overcome setbacks. Whether you are a business owner or not, parent, professional or athlete, setbacks are common to all of us, but HOW you deal with setbacks will determine how long you are setback for and how successful you are when you come out from it.
Get ready to learn…….

- How to Deal With Setbacks effectively
- HOW to Start Again When You Feel Stuck
- What Action Steps to Take NOW!
- What Systems You CAN Use for Execution
- What Support Mechanisms You Need to Have in Place
- What Questions You Should Ask Yourself
- How to Find Alternative Solutions
and much more….
Today with the Global Economic Downturn, nothing is certain but what Camilita has learned in life is that there are ONLY 2 things you can control – Your Attitude and Your Activity. Do you want to learn HOW to deal with setbacks effectively and be better equipped when they arise?
Then… let's get started NOW! Order your eBook today.
---
We Also Recommend