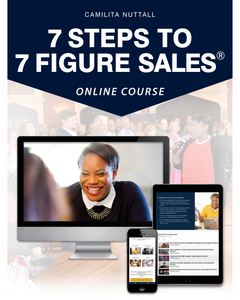 7 STEPS TO 7 FIGURE SALES® | ONLINE COURSE
ALSO GET CHAMPIONS PLANNER FREE! 
'TAKE YOUR SALES TO A WHOLE OTHER LEVEL'
After building large sales teams of thousands in 30+ countries and doing millions of dollars in sales, Camilita will teach you her proven sales strategy in this online course. Whether you are a sales professional, business owner, coach, trainer, corporate sales consultant, entrepreneur, professional network marketer or executive, have a large sales team or are wanting to double or triple your productivity or income, Camilita's 7 Steps to 7 Figure Sales® online course will help you exceed your sales goals.
When you enrol today on this course you get instant access to:
7 Modules (or Steps) in Camilita's 7 Steps to 7 Figures Sales® Program
Access to a Private Facebook Group for all students
Camilita answering your questions on each module of the course
Modules Include:
Module 1 (Step 1) – PROSPECT
Your Pitch – write and practice 3 versions
The BAMFAM PROCESS
Becoming a Leads Collector
Spreadsheet for leads
Go back through your list
Stop trying to sell first, create conversation first
Module 2 (Step 2) – KLTS PRINCIPLE
People do business with people they Know, Like, Trust & Support
Make people feel comfortable when you meet with them
Sound SURE about your brand, product or service
Create an atmosphere of the KLTS Principle first
Your after-sale support strategy
A series of questions to ask
Becoming a good listener
Module 3 (Step 3) - SHARE THE BENEFITS
Ask about them – write down a series of questions
Find their hot buttons or pain points
Share the benefits of your brand product or service to them
Share how your product or service solves their problems or serves their need
Share how you CAN alleviate their pain points
Then PAUSE….. Allow them to ask what YOU do
Share how your product or service can help their pain points or hot buttons
Share a testimony or screen share to prove your point or the success you've had
Module 4 (Step 4) - FOLLOW UP
Be brief, be exact, be specific, be polite
Have a script available at ALL times
85% of sales are made on the 10th – 12th Contact!
Follow up between 24, 48 and 72 hours unless otherwise discussed
Offer to work for less or a % OFF to start
Thank you message, touch base message, BAMFAM
Have a spreadsheet for all the people you missed over the last 12 months
Follow up on social media, email, article, blog, etc.
Module 5 (Step 5) – ASK FOR THE SALE
ASK – Always, Seek, Knowledge
60% of sales people NEVER ask for the sale
Be in a hurry, show value, take it away
Ask online then take them offline
List the objections beforehand
Go back and ask for the Sale from the last year
Make an offer for part payment
Share a testimonial and validation
Ask over and over until – using Camilita's BAMFAM process
Module 6 (Step 6) – ASK FOR REFERRALS
In sales 1 + 1 = 11 (NOT 2!)
Ask for referrals at the time of the sale
70 % of salespeople NEVER ask for referrals
Ask for referrals even if you did NOT get the sale
Communicate with referrals in a timely manner
When calling, say WHO referred you
Who can YOU refer for business?
What are YOU willing to give in return?
Stop chasing the next sale, ASK FOR REFERRALS
Module 7 (Step 7) – INCENTIVISE YOUR CLIENTS
Some people are NOT ready to buy so incentives work
Goodwill CAN get you a LONG way
Give support before it's asked for
Give selflessly, give in integrity, give with an open heart
Support their charities and give back
Offer a % that works, even free giveaways
Give them a reason to refer you
*Unlimited On-Demand Access
---
We Also Recommend