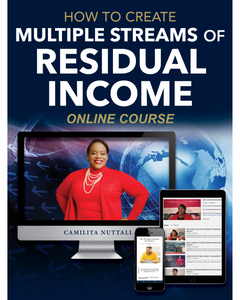 CREATING RESIDUAL INCOME | ONLINE COURSE
ALSO GET CHAMPIONS PLANNER

 

FREE! 
Creating Multiple Incomes can be a complex issue, but in this course, Camilita teaches you a step by step process that she has used over the last 15 years to Create Multiple Incomes from property, information products, books, eBooks, stocks and shares, memberships, online courses and so much more. 
When you enrol on this course you get instant access to:
10 Modules (mirroring each chapter in Camilita's Multiple Streams Book)
Access to a Private Facebook Group for all students
Camilita answering your questions on each module of the course
Modules Include:
Module 1 (Chapter 1)
How to find a need
How to solve that need
How to find multiple ways of providing the exact same service
Examples of things to consider that you can do
Selling at Level 5!
Module 2 (Chapter 2)
Set up a monthly membership
Set up a support or leadership program
Set up a club
How to charge for subscriptions
Setting up support groups
Module 3 (Chapter 3)
Start a podcast or online TV show and charge for sponsorships
Podcasting - what to do and how to set it up
Video and the power of video
YouTube and why your business should be on it
Why people consume data differently
Module 4 (Chapter 4)
Creating information products from what you already know
Books & eBooks
Online courses
Training programs
Journals & workbooks
Videos, vlogs
Live events, templates
Module 5 (Chapter 5)
Creating Income Generating Assets
Different ways of investing in property
Contracts you must have in place
Other tangible assets
Module 6 (Chapter 6)
Selling your own inventions
Selling other people's products
Selling on eBay, Amazon, Etsy
Becoming a consigner
Setting up your own shop using Shopify
Module 7 (Chapter 7)
Multi-Level Marketing, direct sales, party plans
The power of Network Marketing
How to build an MLM business
What is true selling
6 key points to bear in mind when building an MLM business
Module 8 (Chapter 8)
Royalties from music and song writing
Benefits from licensing & franchising
Trademarks and the benefits of using your own or other companies marks
How to trademark your own invention
Module 9 (Chapter 9)
Renting out office spaces
Renting out rooms
Utilising companies like Airbnb
Using your address as a registered addresses for other companies
Ways to make money from property
Module 10 (Chapter 10)
Launching a business and having other people run it
Outsourcing business processes
Investing in start-up companies
Have retainers and have other people deliver the service
Using other people's money, effort and time
*Unlimited On-Demand Access
---
We Also Recommend