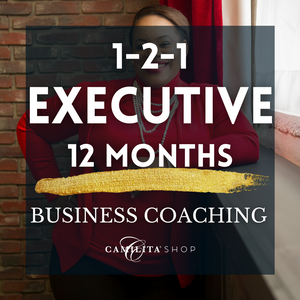 1-2-1 EXECUTIVE BUSINESS COACHING | 12 Month Program
With this 12-month one-to-one Coaching Program, Camilita will give you a plan of action with systems in place to launch or re-launch your business or idea. This coaching package includes...
Two 1.5-hour sessions per month (total of 36 hours)
1 Podcast Guest Episodes (once paid ½) – £500 VALUE
Speak on Global Champions Summit (once paid ½) – £2,500 VALUE
3 Free Online Courses – £900 VALUE
3 Free FULL eBooks – £20 VALUE
2 Free tickets to The Main Event
Camilita has the ability to take what's in your head and bring it to fruition. She hears what you are NOT telling her and will give you a system to position yourself as THE EXPERT. 
Through this 1-year coaching process, Camilita truly hears what is needed to give you the answers to your most burning questions. Over 12 months you will not only have a game plan to work with but get the exposure you need through her summits and online events. 
Camilita is a wealth and business coach who is unafraid to have the difficult conversations that push you towards purpose and dream fulfillment with her blueprint for success through leadership and actionable ideas. 
"I chose to work with Camilita after attending her first retreat in Barbados, which was awesome! I was eager to take my business to the next level and she possessed the experience I lacked in building large businesses, as well as in-depth Sales & Marketing experience. Camilita is a strong and confident coach who is also a compassionate communicator, which is exactly what I needed. She helped me see the value of my own global network, expertise, talents, gifts and overcome my limiting belief regarding making money leveraging them. With her guidance, I am now more confident offering new inspiring and motivating talks telling my personal story of transformation. I've also developed a new program entitled "The Divine Quotient™", which I recently gave a TEDx Talk about. If you are looking for a coach to help you get results, keep you accountable and do it authentically, hire Camilita! I am honored to now call her my friend as well as a coach." - Tilde Guajardo (USA)  
If you're serious about business and ready to move to the next level, Camilita is the executive business coach you need on your side. You can trust Camilita to guide you toward the future you deserve. It's time YOU LIVE LIKE A CHAMPION!
---
We Also Recommend