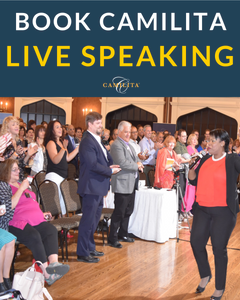 BOOK CAMILITA | LIVE SPEAKING
The 'Rock Star' International Speaker Camilita Nuttall is renowned for speaking to large crowds at events around the globe. Unapologetically bold, her passion for delivering practical information that can be immediately implemented makes her extremely sought after for international speaking engagements.
Camilita can tailor her talk to your needs to ensure the best possible results for your business or organisation.
Companies and Industries from Fortune 500s, direct selling organisations, universities, property investment seminars, business groups, religious groups and many more have all been inspired and enthused by Camilita's dynamic message and delivery. Camilita's infinite charisma will positively alter the mindsets of your audience in just a few minutes while holding their attention for days. It will be a transformative experience that is memorable for all.
You can book Camilita to speak at your next event anywhere in the world! Camilita
 will speak for 45 minutes - 1 hour at your event.
She is the ROCK STAR Speaker you need at your next event. So book soon!
---
We Also Recommend