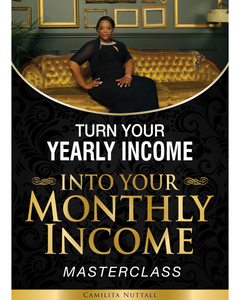 YEARLY INCOME INTO MONTHLY INCOME | MASTERCLASS
How will you feel WHEN your YEARLY income becomes your MONTHLY income!?
Camilita has found that the best way to succeed fast, is to find someone who has already succeeded on a massive scale, model what they have done and avoid what they tell you to avoid. Do you agree?
Camilita went from hustling on the public dump in Trinidad to running 3 successful GLOBAL businesses doing millions in sales a year and NOW she teaches others to do the same. It's not about your ABILITY – it's about your COMMITMENT and WILLINGNESS to give it your ALL regardless. 


On this recorded Masterclass Camilita will be teaching you: 


Her 7 Steps to 7 Figure Sales® Program – The Plan, The Process, The Execution. Time to ramp up your sales and your income.
How to use Events, Keynote Speaking and Social Media to Increase Sales in Your Business.
How to sell yourself as a speaker and negotiate higher speaking fees with confidence.
Strategies to increase your productivity and generate more business.
If It's NOT Making Money, It's Not Making Sense, Period! - how to use this principle to your advantage.
ARE YOU TIRED OF SEEING OTHERS SUCCEED QUICKER? Then get ready to change that AND Turn Your Yearly Income Into Your Monthly Income!
Go ahead, get this recorded Masterclass now.
---
We Also Recommend