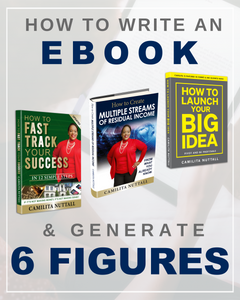 WRITE AN EBOOK & GENERATE 6 FIGURES | 6 Hours
WRITE AN EBOOK TO GENERATE 6 FIGURES!
Camilita wrote an eBook and generated over £100,000 from it!
Camilita will give you the strategy you need to write an eBook in 6 simple steps, then show you how to market that eBook and use it as your funnel to generate 6 figures from your product/service offering.
Done over 7 Hours, throughout this Coaching Program with Camilita you will...
Super-charge your plan for your eBook
Learn how to market that eBook correctly
Create Funnels with simple structures for success
Create Sales Pages that highlight your product or service offering
Get a 90 Day Game Plan of action that is doable and achievable
"I am the person who does not need a coach, I can figure it out on my own, thank you very much. Then I found this woman. This incredible, brilliant, energetic, kind woman. A session with Camilita is like no other coaching session I have ever had or facilitated. She is a powerful listener, an enthusiastic teacher, and has more wisdom on a Monday than I have all week! If you are considering hiring Camilita, I highly recommend it, and if you, like me, don't need a coach, well, I call BS. You need her....and so do I. Three cheers to the growth you will have with her tutelage!" – Karen Grosz CPC (USA)
If you're serious about writing an eBook and generating over £100,000 from it, then Camilita is the executive business coach you need on your side. You can trust Camilita to guide you toward the future you deserve. Take action TODAY!
---
We Also Recommend