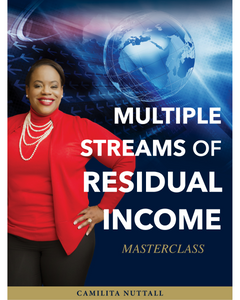 CREATE MULTIPLE INCOMES | MASTERCLASS
WHAT IS YOUR REASON FOR CREATING MULTIPLE STREAMS OF RESIDUAL INCOME? 
Are you fed up of trading time for money?
Are you worried about your own health and if you can continue earning?
Maybe you already have residual income but not enough?
You have had years in school with a lot to share and want to impart that knowledge but don't know how?
You know you have a book or eBook in you that needs to come out?
You love watching property shows and think it's time you start doing something?
You love people, you love to sell but what do you sell and where?
You are an entrepreneur at heart, you have a business but it's just a glorified job?
Warren Buffett said… "Never depend on a single income. Make investments to create a second source."
Whatever your reasons are for Creating Multiple Streams of Residual Income, my advice to you is to do it now! You don't know what could happen in the future.
The reality is that most people don't have Multiple Streams of Residual Income and go from pay cheque to pay cheque, month after month.
Let me ask you a few bold questions and give me some truthful answers:
WHAT IF...
You're the main breadwinner and you lost your job today or this year?
Your business goes bankrupt or fails and you are left with huge debt and no way to pay your bills?
You get wiped out in the next 18 months, what then, what will you sell, what will you do?
You can't work anymore because of ill health, mental health or you simply can't cope anymore?
You have to take time off to look after a loved one or family member who needs you?
You are just tired of doing what you're doing, the love of it is gone and you're at the brink of quitting?
Your spouse or partner loses their job and you have to foot the bills and expenses by yourself and it's virtually impossible doing it on your own?
HOW LONG COULD YOU CONTINUE TO LIVE ON YOUR SAVED INCOME OR BE ABLE TO SUPPORT YOURSELF AND YOUR FAMILY?
If you can't answer that, then get this recorded Masterclass and take steps NOW to Create Multiple Streams of Residual Income.
I have more than 8 streams of residual income that I have developed over the years and I want to show in this recorded masterclass how YOU can do it too.
You will be so glad you did!
---
We Also Recommend