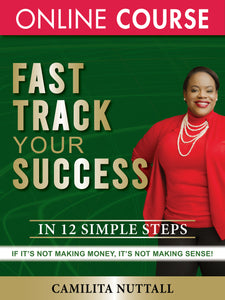 FAST TRACK YOUR SUCCESS | ONLINE COURSE
ALSO GET CHAMPIONS PLANNER

 

FREE! 
Camilita will teach you how to Fast Track Your Success and create a platform where YOU are seen as THE expert, as you collaborate with the TOP entrepreneurs in the industry. 

Camilita has created two 6 & 7 figure businesses in the last 5 years and through her proven 12 Step Formula, you will learn how to stay focused, on target and create the life and business of your dreams quicker and with complete clarity.
When you enrol today on this course you get instant access to:
12 Modules (mirroring each chapter in Camilita's Fast Track Your Success Book)
Access to a Private Facebook Group for all students
Camilita answering your questions on each module of the course
Modules Include:
Module 1 (Chapter 1)
How to focus on Income Generating Work
Types of Income Generating Work
The purpose of work
Things you can do every day that are Income Generating
What cannot be classed at Income Generating
What you should stop doing and start doing
How to use Camilita's daily planner
Module 2 (Chapter 2)
Having a Customer Plan V Business Plan
What are customers wanting more of
What you can do better for your customers
Being more accessible to your customers
Creating an opportunity for them to share and give feedback
Ask what you can provide that they would want
Module 3 (Chapter 3)
The most important tip for massive growth & success
What you should ask for
Make a list of who to ask
How to grow more using the ASK Principle
This is your opportunity to serve
Module 4 (Chapter 4)
Find new ways to market your brand or product
Look at what your competitors are doing or selling
Launch or re-launch your brand or product
Use social media more and have a greater online presence
Partner up and collaborate
Start with a LIVE show
Module 5 (Chapter 5)
Why go from the top down NOT the bottom up
Where to find people at the top
How to approach people at the top
Why support their charities
Benefits of following influencers
How to share the benefits of your business to them
Module 6 (Chapter 6)
Spotting a good or bad deal from a mile away

Contracts and agreements
Is there a plan for Residual Income
Having a Residual Income Model
Why have an exit strategy in place
Drafting up proposals
Module 7 (Chapter 7)
Get to Level 5!
The levels of Service v Experience
How getting to Level 5! can greatly increase your bottom line
What level are YOU operating at?
What can you sell at Level 5?
What can you sell as add on's?
Why just make the offer
Module 8 (Chapter 8)
Building a strong team of people
Focus on doing the $1,000+ / hour jobs
People you need on your current team
Get a coach who understands your business
How to get a strong team
Module 9 (Chapter 9)
Learn how to sell or hire the right people who will
Utilise Camilita's 7 Steps to 7 Figure Sales® training
Have a solid sales process
The fundamentals of selling
Create a model sales sheet
Module 10 (Chapter 10)
If It's NOT Making Money, It's Not Making Sense
Every action should be Income Generating
Calculate every action
Make a list of what's NOT making money
Make a list of what's making money
Decide on what's Urgent, Important and Can Wait 
Module 11 (Chapter 11)
Your positioning
Why position yourself as The Expert
Perception is vitally important to your success
6 things you can do to position yourself differently
Why get publicity and articles done about you
Collaborating with influencers
Module 12 (Chapter 12)
Make social media your friend
Have a dominant presence online
Why automate or use automotive software
Add and follow influencers and comment on their posts
Stand out to be heard
Change, AI, robotics and the changes in social media
*Unlimited On-Demand Access
---
We Also Recommend