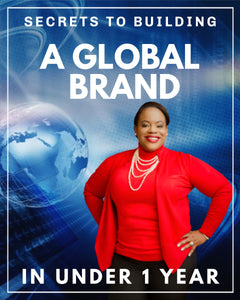 BUILD A GLOBAL BRAND IN UNDER 1 YEAR | 7 Hours
SECRETS TO BUILDING A GLOBAL BRAND IN UNDER 1 YEAR
Ever thought about building a global brand or what that even looks like? Camilita built 2 global brands in under 1 year, Camilita® and Event of Champions® and she can show you HOW to do it, effectively and profitably.
Building any brand is not easy but going global requires you to use technology, collaborations, connections, a solid plan of action, access to suppliers and agents as well as the right amount of cash flow to make it happen!
Immerse yourself in Camilita's one-to-one Coaching. This coaching package is done over 7 hours and delivered over one month, including:
Three 2 hour sessions
One 1 hour session
Camilita's passion is to see you achieve the level of success you've dreamed of. Through her personalised coaching process, Camilita truly hears what is needed and isn't afraid to have the difficult conversations that push you towards your purpose. 
Oh my goodness! What can't I say about Camilita? I contacted Camilita to help me strategize and grow my business. Turns out she's the coach I've been looking for. She was able to pull out my strengths and then effectively help me monetize myself. She gave me ideas, activities and action items helping me realize my full potential. I love her upbeat personality but also pragmatic approach. She over delivers for sure. Now, it's time for me to do the work. Valerie – Certified Change Practitioner (USA)
If you're serious about building a global brand, Camilita is the executive business coach you need on your side. You can trust Camilita to guide you toward the future you deserve. Take action TODAY!
---
We Also Recommend