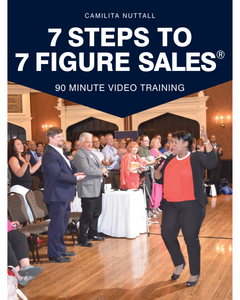 7 STEPS TO 7 FIGURE SALES® | MASTERCLASS
TAKE YOUR SALES AND PROFIT TO A WHOLE OTHER LEVEL
After building large sales teams of thousands in 30+ countries and doing millions of dollars in sales, you will learn my proven sales strategy to double or quadruple your sales.
Whether you are a sales professional, business owner, coach, trainer, corporate sales consultant, entrepreneur, professional network marketer or executive, have a large sales team or are wanting to double or triple your productivity or income, my 7 Steps to 7 Figure Sales® training is what you need to exceed those sales goals.
HERE IS WHAT YOU WILL LEARN: 
How to HAMBAM to close more sales
How to double your referrals and contact list using my KLTS Principle
What Level 5! sales are and how your business can get there
How to value you, your brand or product for success
How to get new business by giving
How to create bigger sales using what you currently have
How to close better – follow up more timely and with precision
How to get more referrals through a system that is very duplicatable
How to ALWAYS get a YES or always sell something
How to recruit like there's no tomorrow
This recorded Masterclass is for entrepreneurs willing to do the work and create the business they deserve by investing in themselves and their businesses
If you want to make this your defining year and learn about sales the simple way to bring BIG results, get this course NOW!
---
We Also Recommend