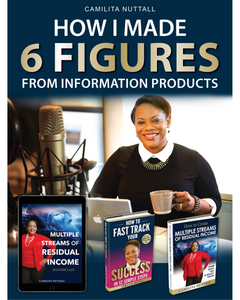 6 FIGURES FROM INFORMATION PRODUCTS | MASTERCLASS
The YOUEconomy is NOW creating more 5, 6 and 7 figure business owners who are operating from the comfort of their own homes or shared office spaces.
WHY?….
People consume data differently from 10 years ago
More people want a side hustle or side business that generates residual income
Staying in is the new going out and downloading, listening on the go or streaming has taken over traditional video consumption
You build relationships now by giving away more free content than before
Mobile phone usage and sales done using mobiles are now at 60%!
For years Camilita delivered webinars, events, masterclasses, online seminars and more. Then.... people started asking her for the content, the slides. Camilita decided to put it into eBooks, into Information Products, more importantly, to close more clients. 
Then BANG! It worked.  
If you've ever wanted to create, sell or give away information products, now is the time to do so. According to a recent survey, Intellectual Property is the new and next BIG thing that will revolutionise the world! 

  
Want to understand how you can use this data to your advantage to generate more business and close more clients?
Then get this recorded Masterclass NOW!
---
We Also Recommend