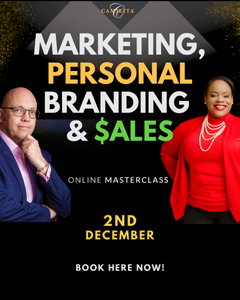 MARKETING, PERSONAL BRANDING & SALES | LIVE ONLINE EVENT
Want to learn how to Market and Build a Personal Profitable Brand & Sell Your Way to Success?
Then join our LIVE Masterclass on Saturday 2nd December. BOOK NOW!
We will be teaching you how we built 2 Global Brands using our OWN Marketing Strategies, Personal Branding Tips & 7 Steps to Figure Sales® System.
I was a recent panellist on the "Forbes School of Business and Technology's Global Thought Leaders' Summit" and discussed the topic of 'How to Market When YOU Are The Product.
So many people contacted me afterwards asking for business support.
Now it's your turn!

Let's face it, marketing is a mind field. Personal Brand Marketing & 7 Figure Sales is a whole other story. 
However, most are not marketing themselves correctly to earn a substantial income. What happens often is that they feel to quit even before they got started.
Marketing, Personal Branding, and Sales are three important aspects of any business or individual looking to promote their products, services, or themselves.
For some people, it's simpler to market someone else's product or service than to market THEMSELVES as THE product. This can sometimes feel like a daunting task, to say the least.
 Over the last 10 years, we have built global brands from the ground up and helped entrepreneurs around the world do the same with our proven strategies.
From our OWN Marketing Strategies, we got into….
🤑 Forbes

🤑 BBC Business News
🤑 Think & Grow Rich for Women

🤑 B2B News in Toronto
🤑 BBC Radio Nottingham

🤑 ZNS, CCN TV6 and others in the Caribbean

🤑 SKY TV in the UK
and more……


Want to learn how we did it and how you can do it too?

Then…. Take Action Today!

A well-planned and executed marketing, personal branding, and sales strategy can help to achieve business goals, increase revenue, and build a loyal customer base.
"I thoroughly enjoyed Camilita's Masterclass. This was an interactive session filled with valuable content. Camilita shared her knowledge, experience and gave me the energy boost I needed! I left with tips to help me move my business forward in the next 90 days".       - Jackie, United Kingdom
LET'S GET TO WORK NOW!
---
We Also Recommend