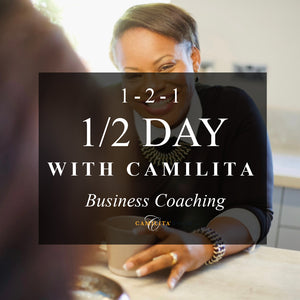 1-2-1 VIP HALF DAY WITH CAMILITA | 5 Hours
READY TO MAKE YOUR NEXT BIG MOVE?
You might think…what can I accomplish in half a day? One VIP 1/2 Day with Camilita can indeed change your life! 
During this VIP Day and through a structured thought-provoking and creative process, Camilita will hear what is needed, help you build a sustainable route to successful entrepreneurship and launch or re-launch your brand by using the proprietary techniques she has used with other entrepreneurs around the world.
YOU ALSO GET:
3 Free FULL eBooks – £20 VALUE
Global Champions Club for 1 year – £67 VALUE
TOTAL VALUE £87 FREE!
Camilita's passion is to see you achieve the level of success you've dreamed of. Through her personalised coaching process, Camilita truly hears what is needed and isn't afraid to have the difficult conversations that will push you towards your purpose. 
Her proprietary techniques for discovering human potential are revolutionary and as a wealth and business coach, she will provide a blueprint for your success through leadership and actionable ideas.
I have worked with several coaches and spent thousands on some of the top business and peak performance coaches in the world. I can say unreservedly that Camilita Nuttall was the most precise and powerful in terms of very quickly identifying the root cause of problems presenting themselves in my business and for providing me with profound insights on how to address them. I am blown away by Camilita's perceptiveness, integrity and expertise. Camilita listens and serves you so deeply, and from a space of such respect and love that it is impossible to leave sessions with her without feeling empowered and being transformed. If you truly want to transform your business, Camilita is the coach. You won't fully understand it, unless you book a session yourself. – Margaret Rose (Legal Futurist UK)
If you're serious about business and ready to move to the next level, book your VIP Day with Camilita now. You can trust Camilita to guide you toward the future you deserve. Let Camilita be the architect of your dreams.
---
We Also Recommend