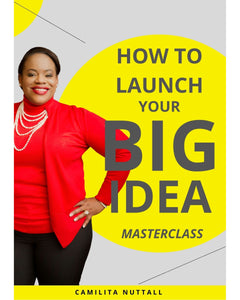 LAUNCH YOUR BIG IDEA | MASTERCLASS
For most people, bringing their idea to the world is a major milestone. It's something that most people don't do, that's why so many people go to their graves with ideas and plans still inside, but not you!
Whether you are launching or re-launching your BIG Idea, brand, product or service, this Recorded Masterclass will help you greatly. It will also show you what should happen before, during and even after your launch.
I'm also going to share what you should start doing and stop doing if you want to have HUGE success in bringing your BIG Idea to the world or making your existing one more profitable.
Throughout this Recorded Masterclass I want to give you the tools to bring that business, brand, product or service out of you, to allow others to benefit from your genius. Yes, I said it, your genius. Because to you it may just be a thing, but to someone else, it can be life changing. That's why you need to bring it out into the world NOW.
I will be teaching you what I have learnt over 15 years, launching several businesses. You're getting my success principles from being the Founder & CEO of Event of Champions®, Editor in Chief of Global Champions Magazine, Business & Wealth Coach at Camilita Global, 7-Time Award-Winning Sales & Growth Expert, Multi-Millionaire Property Investor, Author and Radio Show Host at The Camilita® Podcast.
I have been featured in Forbes & Quoted in Think & Grow Rich for Women, I appeared on Sky TV, BBC Business News, Canada's B2B News Network and others. Dr. J B Hill, Napoleon Hill's grandson quoted me in front of 20,000 people as saying, 'There is no better time than the present to take action to Succeed'.
As you can see, I have launched several businesses and have always focused on the needs of the recipients of that brand, product or service and not on my own. My goal is that through my brands/businesses, people's lives will be changed, and they will believe that they can do it too.

On this recorded Masterclass Camilita will be teaching you: 

A systemised plan to launch in 90 days
What you need to make your launch a success
Who you need to have onboard with you
What Social Media platforms you need to market your business
What digital tools you need to have in place to make it happen
Money, pricing & cash flow – how much and where
Time frame for a powerful business launch
Contracts, trademarks and legal
Surveys, polls and doing your due diligence
Online opportunities
Customer Plan V Business Plan
Offers Discounts and Promotions
Groups, collaborations and coaching  
Where to access support in launching then building
If you're relaunching – what to start doing and stop doing
And so much more…..
The time has come to launch your BIG Idea and this Masterclass will give you some practical steps to follow to launch any business in 90 days or 6 months (or longer).  
I know it can feel scary to launch your BIG Idea. You're asking yourself "can it actually happen?". Yes it can! With my practical tips and steps, with the support mechanism you must have in place, with my experience in doing it over and over, I know you can get this done!
ARE YOU READY TO LAUNCH YOUR BIG IDEA? Get ready to learn the fundamentals of a successful and profitable launch!
Go ahead, get this recorded Masterclass now.
---
We Also Recommend