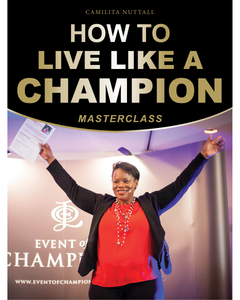 HOW TO LIVE LIKE A CHAMPION | MASTERCLASS
"Don't be everything to everyone. It's better to create your chosen path than follow someone else's dream. It's simple.... Work on YOUR terms and help enough people WIN. It's your life...go out and LIVE LIKE A CHAMPION!!"
Living Like a Champion requires grit, determination, a never give up attitude and a desire to win that's bigger than yourself.
Have you ever wanted something more than anything but not been sure how to get it? 
This recorded masterclass will give you the tools to do just that. 
YOU WILL LEARN HOW TO:
Know WHO you are
Commit to your success
Believe in WHO you are
Do the work - a living is made from 9–5, a fortune is made after 5!
Focus on income generating work
Have a solid sales process
Find new ways to market your brand or product ONLINE
Have a launch or relaunch always
Invest in yourself
Live by THE most important tip for massive growth & success that will save you time and money……
Collaborate - but with the right people
Earn more money
Have more influence
Get more introductions & referrals
Get to Level 5! 
How long will you continue seeing others succeed, when you know you can do the same? THEN IT'S TIME FOR YOU TO LIVE LIKE A CHAMPION.
I created this recorded masterclass with you in mind. If I can do it, you can do it too.
Get ready to not just live, but Live Like a Champion!
---
We Also Recommend