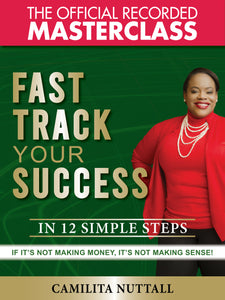 FAST TRACK YOUR SUCCESS | MASTERCLASS
LET'S BE REAL……..
Are you behind on your goals?
Are you behind on your dreams?
Do you have little or no residual income?
Do you know there is more to you, but you don't know what to do?
Are you in business but you see others succeeding and know you deserve greater success?
If you answered YES then…..
I want to show you what it takes to Fast Track Your Success and create a platform where YOU are seen as THE expert, as you collaborate with the TOP entrepreneurs in the industry. 
It's easier now than before to scale your business. What's important is the structure, work ethic, collaborations and online strategy needed to not only build but sustain a 6 or 7 figure business.

I've created two 6 & 7 figure businesses in the last 5 years and I am still expanding globally. I want to show you how to do it correctly while creating momentum, so people start calling YOU for business and you are constantly being referred to for new, qualified clients.

ON THIS MASTERCLASS YOU WILL LEARN:
How to use Events, Keynote Speaking and Social Media to Increase Sales in Your Business
How to Quadruple Your Sales by Getting to Level 5!
Strategies to Increase Your Productivity and Generate more Business
If It's NOT Making Money, It's Not Making Sense, Period! - How to use this principle to your advantage
How to go from the Top Down not the Bottom Up
The 5 Key Strategies to Dramatically Scale Your Business in 90 Days!
And lots more…..
Ready? 
Don't delay, ORDER yours NOW.
If you are concerned about your OWN economy, then it's time to change it. 'For things to change YOU must change'.
I've travelled to over 50 countries, lived in Germany, Spain, Netherlands, Trinidad and the UK and over the last few years I have been helping entrepreneurs like YOU live their champion life now! 
"Success is not final. Failure is not fatal. It is the courage to continue that counts." – WC


It's time for YOU to Live Like a Champion. Don't delay, ORDER yours NOW!
---
We Also Recommend