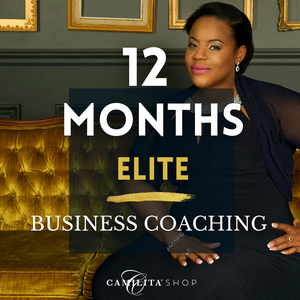 1-2-1 ELITE BUSINESS COACHING | 12 Month Program
With this 12-month one-to-one Coaching Program, Camilita will give you a detailed plan of action with systems in place to launch or re-launch your BIG idea or take your current business to the next level of success. 
This coaching package includes... 
Two 2-hour sessions per month (total of 48 hours)
2 podcast interviews with Camilita (after at least 50% of payment is received)
2 one-hour interview on Camilita's Global Champions Summit - exposure to all those in attendance across the globe (after at least 50% of payment is received)
Two VIP Day or Mastermind Day with Camilita (after at least 50% of payment is received, on a date that is mutually agreed by both parties and relevant to your progress)
Attendance to The Investors Paradise Retreat (after at least 50% of payment is received)
Appearance to 5 Podcasts for Global Exposure 
eBooks, Success Tools and Podcast Launch during your coaching 
Success Tools & Resources you need to build your brand/business
3 Free Online Courses – £900 VALUE
3 Free FULL eBooks – £20 VALUE
Global Champions Club for 1 year – £2,500 VALUE
2 Free VIP tickets to The Main Event – £1,197 VALUE
Camilita has the ability to take what's in your head and bring it to fruition. She hears what you are NOT telling her and can help you create books, eBooks, programs, systems, a clearly defined business plan, create the right pricing, social media presence, sales, and branding systems to position you as THE EXPERT. 
Through this 1-year personalised coaching process, Camilita truly hears what is needed to give you the answers to your most burning questions. Over 12 months you will not only have a game plan to work with but a route to market so you can start making money, collaborate with others and get the exposure you need through her summits and online events. 
Camilita is a wealth and business coach who is unafraid to have the difficult conversations that push you towards purpose and dream fulfillment, with her blueprint for success through leadership and actionable ideas. 
I first encountered Camilita as she was moderating in a room on Clubhouse! Her energy, her directness, her knowledge kept me engaged longer than most! I followed her for a few weeks before reaching out for services! Soon after we began working together, I realized that she is a powerhouse! Our meetings are packed with top-notch support and ideas for areas that I found difficult to navigate. She is so personable and I never felt like an outsider, more like family! Her and Andrew are some of my favorite people right now, actually. They laugh but also get down to business. I have learned so much from Camilita! She helped me redirect focus and expand to areas that more directly align with my long-term goals. She networks her behind off! And she doesn't just network for herself, she networks for everyone. She wants everyone to WIN and be GREAT! I just love her confidence and enthusiasm. I couldn't have picked a better coach! – Beatrice Glenn (USA)
If you're serious about business and ready to move to the next level, Camilita is the executive business coach you need on your side. You can trust Camilita to guide you toward the future you deserve. It's time YOU LIVE LIKE A CHAMPION!
---
We Also Recommend