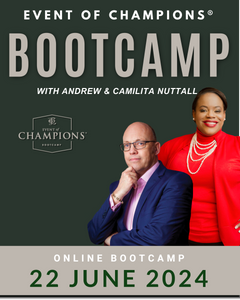 EVENT OF CHAMPIONS BOOTCAMP | ONLINE EVENT
THE EVENT OF CHAMPIONS BOOTCAMP
Have you ever wondered what your life would be like if you were in total alignment with your beliefs and desires while earning what you are worth?
Join us at the Event of Champions® Bootcamp. This Intensive online event results in an Actionable 90-Day Game Plan to grow and build your brand, as well as create powerful joint ventures and partnerships among the elite group in attendance. You will get an action planner to use both during and after the event to grow your business and earn what you are worth!
"YOUR ABILITY TO SET AND ACHIEVE 90 DAY GOALS IS PARAMOUNT TO YOUR SUCCESS IN LIFE & BUSINESS"
BOOTCAMP TRAINING IS CENTRED AROUND...
1. 7 Steps to 7 Figure Sales® – The Plan, The Process, The Execution. Time to explode your sales and your income!
2. How to use Events, Keynote Speaking, and Social Media to increase sales in your business
3. How to sell yourself as a speaker and negotiate higher speaking fees with confidence
4. 5 Key Strategies to increase your productivity and generate more business
5. If it's not making money, it's not making sense. Period. How to use this principle to your advantage
6. How to generate and create multiple streams of income while you live like a champion
"I now have the tools I need to expand my brand"

This is exactly what I needed today! This event came at the right time as I launch my new business. Every business owner needs to attend the Bootcamp then take Massive Action after the event. I now have the tools I need to expand my brand and business internationally.

– Veronica Hislop [Toronto]
MEET YOUR BOOTCAMP SPEAKERS
CAMILITA NUTTALL - Multi-Millionaire Property Investor, Wealth & Business Coach, Angel Investor, CEO Event of Champions®, Rock Star Speaker, The Camilita® Podcast, Serial Entrepreneur, Author, Influencer, Semi-Retired at 49!.
ANDREW NUTTALL - Co-Founder of Event of Champions®, Nuttall Property and COO of Camilita®. Andrew has over 25 years of experience in Corporate Sales, Property Investment and Sales where he led a collective team of thousands in 30+ countries.
BOOTCAMP BONUS! [£1,500 VALUE!]
When you join our Bootcamp, you'll also get Special Bonus Content…
3 of Camilita's eBooks – How to Create Multiple Streams of Residual Income, How to Deal with Setbacks & How to Fast Track Your Success
1 Recorded Masterclass on Goal Setting for Champions

30 Minute Group Follow Up Call after the Bootcamp to keep you on target
ALL FOR FREE!
WHO IS THE BOOTCAMP FOR?
Are you are an entrepreneur, business owner, coach, speaker, professional network marketer, trainer, sales professional or corporation looking to quadruple your sales, increase your turnover, create multiple streams of income or build a global brand?
Then you need to attend the Event of Champions® Bootcamp.
BOOTCAMP POSITIONS YOU TO…..
1. Create Multiple Streams of Residual Income NOW from what you already know in 10 steps. It's simple!
2. Fast Track Your Success & Income the Next 90 Days with our 12 Step Simple to use Formula
3. Take Your Business & Income to Level 5! This is where you can go from Yearly Income to Monthly Income.
4. Collaborate with Global Influencers, form possible Joint Ventures and Learn Strategies to grow your brand.


YOUR OPPORTUNITY TO LIVE LIKE A CHAMPION HAS ARRIVED. BOOK YOUR TICKET NOW! 
To find out more information go to: https://eventofchampions.com/bootcamp/
---
We Also Recommend