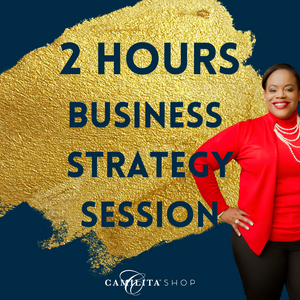 2 HOURS BUSINESS STRATEGY SESSION | 2 Hours
Camilita will give you the strategy you need to truly create the life you deserve, so you can live the champion life today and every day.

Through Camilita's one 2 Hours Business Strategy Session you will...
Uncover what is needed in your business to reach your BIG goals 
Be a lot clearer on the techniques necessary to achieve your true potential
Find out what is blocking your next level of success and get a strategy to move past it
Create a workable plan of action over the next 90 days using Camilita's 90 Day Game plan 
Get a plan to achieve your goals in a shorter amount of time and with better results using Camilita's Champions Goal Setting Planner 
Camilita is brilliant!! I had an awesome opportunity to work with Camilita on my business strategy. In my session, she was able to help me see myself as a global brand, and help me position my business. Working with Camilita has positioned me to be a global coach and add new clients to my coaching program. If you are looking to up-level your brand and close more sales, then I invite you to consider working with Camilita. I promise you will not be the same! - Tonia Morris (USA)
Camilita will partner with you in a thought-provoking and creative process to inspire you to maximise your personal and professional potential. It's time for YOU TO LIVE LIKE A CHAMPION!
---
We Also Recommend