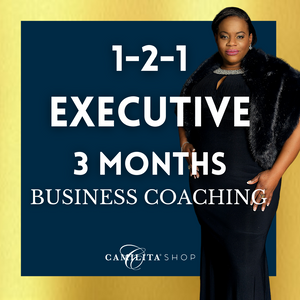 1-2-1 EXECUTIVE BUSINESS COACHING | 3 Months
Immerse yourself in Camilita's one-to-one Coaching that is designed to stir up your BIG ideas and bring them to reality. Whether it's launching, relaunching, creating products or building a new brand, these 15 hours of one-to-one Coaching with Camilita are delivered over 3 months so you have a structure to get results. You get:
Four 2 hour sessions
Two 1 hour sessions
Done over 3 months
Camilita's passion is to see you achieve the level of success you've dreamed of through personalised coaching and she isn't afraid to have the difficult conversations that push you towards your purpose. You will get a blueprint for your success through leadership and actionable ideas as Camilita uses her proprietary techniques for discovering human potential.
Camilita's passion for what she does as a coach is reflected in the energy and wisdom she brings to every conversation. Her drive for success is infectious as she ensures a commitment to setting and achieving milestones. What really resonated with me was how easily she connects with people, is able to listen keenly, and shift a vague, fledgling vision into a vivid picture of possibilities. It's her ability to respectfully challenge and hone unclear thoughts that truly set me on a new path. Through our sessions, Camilita helped me to find the right structure for my business models and moreover an amplified belief in myself and in my vision. Dynamic, forthright, encouraging, persistent...she subtly draws from her own experiences and freely shares wide-ranging tools and techniques that make transitioning from dreamer to entrepreneur a reality. Time spent with Camilita is time well spent. With her guidance, I put the required work in and I'm now better off for it (no pun intended). There's no hesitation on my part in recommending her as an outstanding coach

- Lorraine (Trinidad)
Are you ready to move to the next level? Camilita is the executive business coach you need on your side. You can trust Camilita to guide you toward the future you deserve. Take action TODAY!
---
We Also Recommend