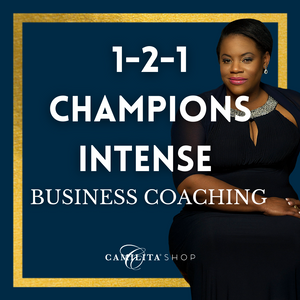 1-2-1 CHAMPIONS INTENSE BUSINESS COACHING | 5 Hours
Immerse yourself in Camilita's one-to-one Coaching. This coaching package is done over 5 hours and delivered over one month which includes:
Two 2-hour sessions
One 1 hour session
Camilita's passion is to see you achieve the level of success you've dreamed of. Through her personalised coaching process, Camilita truly hears what is needed and isn't afraid to have the difficult conversations that push you towards your purpose. 
Her proprietary techniques for discovering human potential are revolutionary and as a wealth and business coach, she will provide a blueprint for your success through leadership and actionable ideas.
Camilita is a real rockstar. She does not let you down when you feel you can not move forward and she drives you through the rocky road to reach your goal. Camilita is a fantastic coach and business growth expert. She helped me set up and launch my new business from inception to launch. She is very detailed in getting from your website to contracts done as well as continued support through her Inner Circle program to support entrepreneurs. She listens and truly cares about my business success. I highly recommend her! - KomCoord Clinical Research (Ireland)
If you're serious about business and ready to move to the next level, Camilita is the executive business coach you need on your side. You can trust Camilita to guide you toward the future you deserve. Take action TODAY!
---
We Also Recommend