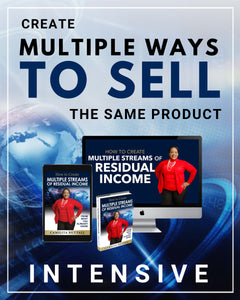 WAYS TO SELL THE SAME PRODUCT INTENSIVE | 1 Hour
CREATE MULTIPLE WAYS TO SELL THE SAME PRODUCT [INTENSIVE]
Did you know you can quadruple your bottom line by Finding Multiple Ways to Sell the Same Product?
Just like selling more to an existing client, you can also find different ways to sell the same product. Camilita teaches this in her Level 5! training which helps entrepreneurs see the huge sums of money they are leaving on the table over the long term.
Camilita's has designed this 1 hour Strategy Session to give speedy results once the systems are applied. 
Camilita, through her personalised strategic processes, truly hears what is needed and isn't afraid to have the difficult conversations that push you towards your purpose. 
Her proprietary techniques for discovering human potential are revolutionary and as a wealth and business coach, she will provide a blueprint for your success through leadership and actionable ideas.
I received a 1-hour Business Strategy session with Camilita. She helped me figure out the business packages that would sell, what I should be saying to close and convert, and how to have a powerful impact on the audience that would make me irresistible to them. When I finished my presentation, they flocked to me and gave me their credit cards to work with me! Camilita is the truth! She is worth every penny and then some! Precious – Author, Speaker & Trainer (USA)
If you're serious about finding more ways to sell the same product, then Camilita is the wealth and business coach you need on your side. You can trust Camilita to guide you toward the future you deserve. Take action TODAY!
---
We Also Recommend