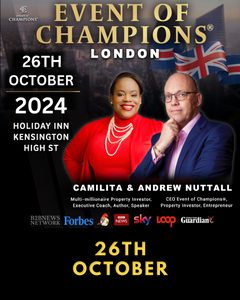 EVENT OF CHAMPIONS ® UK | GENERAL ADMISSION
"Are you ready to Create Your Champion Life in 2025?"



Join us for our LIVE EVENT in LONDON!
The Event of Champions® is back in the UK with world-class speakers and content-rich, life-changing information. People will be attending from all walks of life and this event promises to be unforgettable!
The Event of Champions® offers you high-energy, mega-impact, real-world knowledge that is empowering, inspiring and immersive. It's thrilling to be among the chosen amazing speakers and trainers over 2 days, from Saturday 26th October.
At the Event of Champions®, you get up close and personal with our speakers as you learn from those who have accomplished their dreams, form possible collaborations and joint ventures, and leave with the knowledge that you can immediately implement for success.
Our 'Champions Hour' gives you the opportunity to showcase your business before the entire audience. As you engage in our Private Dinner and Mastermind, you get the chance to network and learn about Personal & Professional Development, Financial Education, Angel Investing, Property Investing, Marketing & Branding, Networking, Entrepreneurship, Sales Strategies, and more. Learn how to start, build, run, and grow a successful business or brand both locally and internationally. 
 AT EVENT OF CHAMPIONS® YOU WILL LEARN:
The SINGLE most important tip for massive business growth and success that will save you time and money which includes possible partnerships and networking with like-minded owners.
Real-life examples from all the speakers on what they have done to build multi-million-dollar businesses.
The New Ways of doing business that gives you maximum profit regardless of your industry, products, services, or economy with the use of increased technology.
Tips on Creating Your Exit Strategy and what you need to have in place. 
How to Use Events, Keynote Speaking, and Social Media to Increase your PR and Profit.
Building a Brand That Pays Locally or Globally!
Property Investing for Investors
Business Building, Launching or Relaunching your Brand
Create Multiple Streams of Residual Income from What You Already Know
How to Quadruple your Sales and Sell at Level 5!
The Power of True Grit and the determination it takes to build a global brand.
and more….
5 Reasons You Should Attend the Event of Champions® London:
Sharpen the Saw - The idea is that sometimes you have to take a break from the "work" of your work to sharpen your skills. A dull axe won't cut a tree nearly as effectively as a sharp one. 
Possible Business to Business Collaboration
For companies or corporations, this will be a great opportunity to network and build new relationships with a range of businesses in the audience.
Global connections with a Global Audience
Because the Event of Champions' focus is on building a global brand, you will learn from our international connections and speakers on expanding globally.
Meet Experts & Influencers Face to Face
While not all conferences offer you the opportunity to meet your business idols, your chances are greatly improved when you're sharing the same space. 
Networking Opportunities and High-Level Connections
Good conferences have opportunities for attendees to mix and mingle, form new relationships, and strengthen existing ones. Over coffee, lunch, or cocktails, you may make a connection with the perfect provider or prospect. At a breakout session, you may find yourself sitting next to your next customer or coach. 
Event of Champions® is also an Incredible Opportunity to Promote Your Business!
We have an exciting opportunity for you to get involved and promote your business throughout the weekend...
'CHAMPIONS HOUR'
At the Event of Champions Main Event, we host a 'Champions Hour'. This is a 15-minute slot to share your products and services in front of a room full of entrepreneurs, company directors, sales professionals, business owners and investors.
You can ask for recommendations, contacts, referrals, possible routes to market, how to raise capital, find new clients, joint venture partners or ask for help in getting your products or services off the ground. ONLY 3 slots are available! Email: info@eventofchampions.com
This is a ONCE IN A LIFETIME opportunity to have all these speakers on one stage, so what are you waiting for, BOOK NOW!
---
We Also Recommend