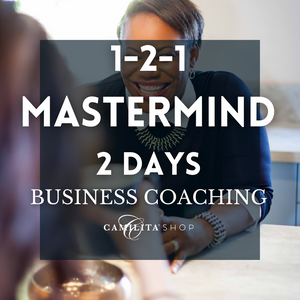 TWO DAY MASTERMIND WITH CAMILITA | 2 Days, 16 Hours
MASTERMINDING WEEKEND WITH CAMILITA TO LEVEL UP!
Masterminding over a weekend with Camilita is like no other. You get the chance to share ALL of what is needed in your business or brand and over the two days Camilita maps out a plan of action for your success.
 YOU ALSO GET:
4 Podcast Guest Episodes – £2,000 VALUE
Speak on Global Champions Summit – £2,500 VALUE
3 Free Online Courses – £900 VALUE
3 Free FULL eBooks – £20 VALUE
Global Champions Club for 1 year – £1,600 VALUE
2 Free tickets to The Main Event – £200 VALUE
 TOTAL £ VALUE £7,220 FREE!
Camilita's passion is to see you achieve the level of success you've dreamed of. Through her masterminding process, Camilita truly hears what is needed and isn't afraid to have the difficult conversations that push you towards your purpose. 
Her proprietary techniques for discovering human potential are revolutionary and as a wealth and business coach, over the 2 days, she will provide a blueprint for your success through leadership and actionable ideas.
Whether you are ready to create bigger sales, get better-paying clients, increase your PR & profits, build a global brand or get your business to Level 5! Camilita will map out what is needed to:  
Monetise ALL of who you are and create multiple incomes
If It's Not Making Money, It's Not Making Sense – Camilita's principal topic
Have an effective and powerful business launch or relaunch
Build a brand that pays time and time again
Create information products from what you already know
Understand the 80/20 Rule on Sales – don't make decisions on what your clients can pay
Understand the power of the word ASK – the missing link for most entrepreneurs
Use events, keynote speaking and social media to increase your profits
If you're serious about business and ready to move to the next level, over this 2-day mastermind, you can trust Camilita to guide you toward the future you deserve. Take action TODAY!
It's time for YOU TO LIVE LIKE A CHAMPION!
---
We Also Recommend